The San Francisco / Bay Area is never lacking outstanding theatre, whether epic Broadway shows, engrossing dramas or bold fringe offerings. BroadwayWorld is rounding up our top recommended theatre every month. This month's top picks include Tiger Style!, Clue and more!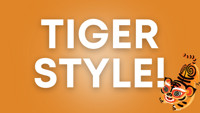 Tiger Style!
Cinnabar Theater - April 07, 2023 through April 23, 2023
Albert and Jennifer Chen were at the pinnacle of academic achievement. But now they suck at adult life. Alberts just been passed up for promotion and Jennifers just been dumped by her loser boyfriend. So they do what any reasonable egghead brother and sister would do: go on an Asian Freedom Tour! From California to Shenzhen, TIGER STYLE! Examines the successes and failures of tiger parenting from the point of view of a playwright whos actually been through it.
For tickets: click here.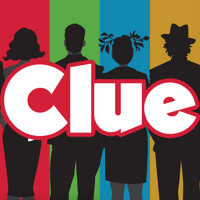 Clue
San Francisco Playhouse - March 09, 2023 through April 22, 2023
San Francisco Playhouse brings the beloved board game "Clue" to the stage in a hilarious farce-meets-murder mystery. Murder and blackmail are on the menu as six mysterious guests arrive at Boddy Manor for an unusual dinner party. When their host turns up dead, they all become suspects and race to find the killer as the body count rises. Based on the cult-hit 1985 film which was inspired by the classic Hasbro board game, this uproarious comedy whodunit should leave both cult-fans and newcomers in stitches as they try to solve the mystery. San Francisco Playhouse Co-Founder and Producing Director Susi Damilano helms a starry cast of theatre veterans who personify the game's iconic characters, including Miss Scarlett, Professor Plum, Mrs. White, Mr. Green, Mrs. Peacock, and Colonel Mustard.
For tickets: click here.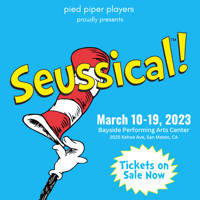 Seussical
Bayside Performing Arts Center - March 10, 2023 through March 19, 2023
Pied Piper Players is thrilled to present Seussical - a fantastical musical production for all ages that brings to life all of our favorite Dr. Seuss characters, including Horton the Elephant, The Cat in the Hat, Gertrude McFuzz, lazy Mayzie and a little boy with a big imagination - Jojo. In Seussical, The Cat in the Hat tells the story of Horton, who discovers a speck of dust that contains the Whos, including Jojo, a Who child sent off to military school for thinking too many "thinks." While trying to protect the Whos, Horton agrees to guard an abandoned egg left in his care by the irresponsible Mayzie. Despite ridicule, danger and a kidnapping, Horton remains true and, with the intrepid and ever-loyal Gertrude by his side, shows us the power of perseverance, friendship, family, and loyalty.
For tickets: click here.
TEA PARTY
The Rueff at A.C.T.'s Strand Theater - March 02, 2023 through March 19, 2023
Gordon Dahlquist's TEA PARTY (Pick your Cocktail - Martini or Molotov...) is a taut, sophisticated, and wicked, 90-minute comedy thriller that teases out the logical consequences of violent political rhetoric in America's near future. Have we been here before? How will we make our way out this time? And who benefits in the meantime?
For tickets: click here.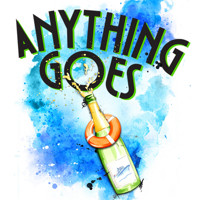 Anything Goes
The Gateway Theatre - February 23, 2023 through March 12, 2023
Spectacular dance and soaring music burst onto the stage in Cole Porter's award-winning musical, as farcical hijinks abound in this theatrical romp across the Atlantic. A hilarious, heart-warming romantic comedy featuring such classics as "I Get a Kick Out of You", "You're the Top", and "It's De-Lovely", this musical "exists to put a daffy grin on your face" (The Washington Post) offering an evening of "sheer escape" into a world of side-splitting laughter, toe-tapping music, and plenty of heart.
For tickets: click here.
---
Looking to include your shows? Submit them to our listings here.