Boston is never lacking outstanding theatre, whether epic Broadway shows, engrossing dramas or bold fringe offerings. BroadwayWorld is rounding up our top recommended theatre every month. This months picks include The Normal Heart, The Color Purple, and more!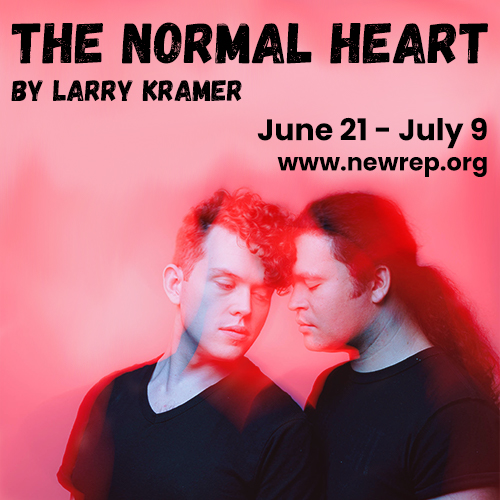 The Normal Heart
New Rep - June 21, 2023 through July 09, 2023
New Repertory Theatre is proud to present The Normal Heart, Larry Kramer's Tony Award-winning autobiographical drama. Directed by Shira Helena Gitlin (they/them). Set in New York City in the early 1980's, this powerful, passionate and controversial play was the first to treat seriously the poignant and devastating subject of AIDS. The Normal Heart traces Ned Weeks, a gay activist writer, through his fight for visibility and justice for the gay community. The New York Daily News called it "An angry, unremitting and gripping piece of political theatre.
For tickets: click here.

The Color Purple
The Umbrella Arts Center - May 12, 2023 through June 04, 2023
The Umbrella Stage Company presents the musical adaptation of Alice Walker's Pulitzer Prize-winning classic novel, The Color Purple, and the 1985 film by Steven Spielberg. The inspirational story set in the early 1900s follows a young woman, Celie, as she journeys through her childhood experiencing joy, despair, anguish, sisterhood and self-realization to find her voice and power. A story of hope and a testament to the healing power of love, the adaptation features a Tony Award-winning score infused with jazz, ragtime, gospel, African music and blues.
For tickets: click here.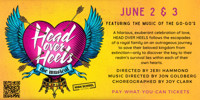 Head Over Heels
Wheelock Family Theatre - June 02, 2023 through June 03, 2023
A jukebox musical featuring the songs of The Go-Go's and based on Philip Sidney's The Countess of Pembroke's Arcadia, Head Over Heels is the story of what happens when the royal court of Arcadia is threatened by the mystical Oracle of Delphi with the loss of its "Beat," the divine power that ensures the kingdom's prosperity. King Basilius, whose own title is at stake, forces the members of the royal family and court on a journey to the woods in an attempt to escape the Oracle's seemingly unavoidable prophecies. Through a plot containing usurped kingship, unlikely lovers, and gender-fluid disguises, Head Over Heels preaches unconditional love and acceptance of yourself and everyone you know, no matter their gender or sexual identity, and uses some of the greatest pop rock hits of the late 20th century.
For tickets: click here.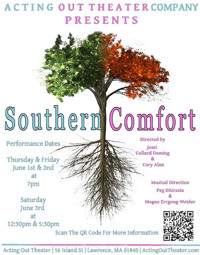 Southern Comfort
Acting Out Theater Company Inc - June 01, 2023 through June 03, 2023
Robert Eads is a transgender man living in rural Georgia, alongside his group of transgender friends, or more affectionately his "chosen family." All of whom struggle to define themselves in a repressive culture. Eads has been diagnosed with cancer, and his chosen family helps him navigate the diagnoses, all while helping each other navigate the very real struggles of daily life. Through love, loss, perseverance of spirit, together they discover a new meaning to the American family dynamic. Defining "chosen family" as commitment not by blood, but by those who love unconditionally.
For tickets: click here.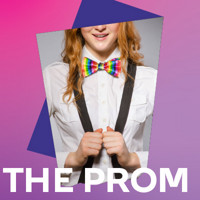 The Prom
SpeakEasy Stage Company - May 05, 2023 through June 03, 2023
Emma didnt want to be a newspaper headline or the face of a movement; she just wanted to take her girlfriend Alyssa to their high school prom. But just when it seems like she might persuade the hesitant PTA, four bumbling Broadway has-beens in search of relevance barge into Edgewater, Indiana to put a spotlight on the issue and themselves. As the worlds of Broadway and Main Street hilariously collide, the courage of one girl reminds us all of the power of love to bring us together. With non-stop laughs and show-stopping dance numbers, The Prom is a feel-good musical with a message that is even more relevant today!
For tickets: click here.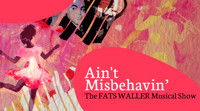 Ain't Misbehavin'
The Cape Playhouse - June 07, 2023 through June 17, 2023
A sassy, sultry musical celebration of legendary jazz great, Fats Waller. Ain't Misbehavin' is one of the most popular, well-crafted revues of all time and winner of the 1978 Tony Award for Best Musical. The inimitable Thomas "Fats" Waller rose to international fame as part of the Harlem Renaissance in the 1920s and '30s with his jumpin' new beat – known as swing music. Ain't Misbehavin' evokes the delightful humor and infectious energy of this American original. Join our cast for a show of rowdy, raunchy, and humorous songs that Waller made famous in a career that ranged from high society Manhattan nightclubs and low-lit dives, to Hollywood and concert stages around the world.
For tickets: click here.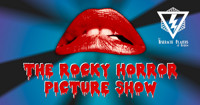 Rocky Horror Picture Show with Shadowcasting by Teseracte Players
The Hanover Theatre and Conservatory for the Performing Arts - June 17, 2023 through June 17, 2023
Ever wonder what has kept crowds coming to see the Rocky Horror Picture Show for almost 50 years? Shadowcasting. Born out of audience participation, those attending in costume would get out of their seats and act out parts of the film in front of the movie screen. This organic expression of the film's central theme (Don't dream it, be it) evolved into full casts of actors performing along with the cult classic and interacting with audiences to create a unique experience with each viewing. Over time, the art of shadowcasting has grown, bringing this unparalleled style of entertainment to audiences world wide. Today, while the Rocky Horror Picture Show is still the most shadowcasted film, others (such as Grease, Repo! The Genetic Opera, The Princess Bride, and many more) have made their way into theaters to the delight of audiences.
For tickets: click here.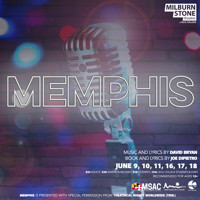 Memphis
Milburn Stone Theatre - June 09, 2023 through June 18, 2023
MEMPHIS JUNE 9, 10, 11, 16, 17, 18 Fridays and Saturdays at 8pm, Sundays at 2pm Contemporary Musical | Recommended for ages 13 and up. Music & Lyrics by David Bryan, Book & Lyrics by Joe DiPietro From the underground dance clubs of 1950s Memphis, Tennessee, comes the Tony and Olivier Award-winning musical that bursts off the stage with explosive dancing, irresistible songs and a thrilling tale of fame and forbidden love. Inspired by actual events, MEMPHIS is about a white radio DJ who wants to change the world and a black club singer who is ready for her big break. Come along on their incredible journey to the ends of the airwaves filled with laughter, soaring emotion and roof-raising rock n roll. MEMPHIS features a Tony-winning book by Joe DiPietro and a Tony-winning original score with music by Bon Jovi founding member David Bryan! Memphis is presented through special arrangement by Theatrical Rights Worldwide (TRW).
For tickets: click here.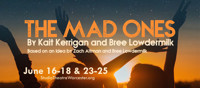 Studio Theatre Worcester - June 16, 2023 through June 25, 2023
Studio Theatre Worcester is thrilled to announce their production of The Mad Ones, by Kait Kerrigan and Bree Lowdermilk. Tickets are now available to purchase. PURCHASE TICKETS HERE
SYNOPSIS
18-year-old Samantha Brown sits in a hand-me-down car with the keys clutched in her hand. Caught between a yearning for the unknown and feeling bound by expectation, she telescopes back to a time before her world had fallen apart. As she relives her senior year, we meet Sam's well-intentioned helicopter mother Bev and her high school sweetheart of a boyfriend Adam, but it's her painfully alive best friend Kelly that haunts her. Kelly was everything Sam is not – impetuous and daring. She pushed Sam to break rules and do the unexpected. When Kelly is killed in a car wreck, Sam loses not only her best friend but also the part of herself that was learning to be brave. Now, Sam has to make a decision: Will she follow her mother's dreams for her, or will she summon the courage to drive away from her friends and family into a future she can't imagine?
For tickets: click here.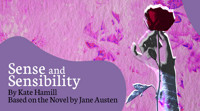 Sense and Sensibility
The Cape Playhouse - June 21, 2023 through July 01, 2023
Kate Hamill's audacious stage adaptation of Jane Austen's beloved novel is a faithful, yet high energy take on this classic. The story is set in the deliciously gossipy late 18th-century England and follows the fortunes and misfortunes of the Dashwood sisters after their father's sudden death leaves them financially destitute and socially vulnerable. Societal pressures provoke both reasonable and ridiculous reactions to the life long pursuit of love.
For tickets: click here.
---
Looking to include your shows? Submit them to our listings here.