Atlanta is never lacking outstanding theatre, whether epic Broadway shows, engrossing dramas or bold fringe offerings. BroadwayWorld is rounding up our top recommended theatre every month. April 2023's top picks include The Boy Who Kissed The Sky, Dorrance Dance Company, and more!
THE BOY WHO KISSED THE SKY
Alliance Theatre - April 01, 2023 through April 16, 2023
Set in the heart of Seattle to the rhythms that shaped a generation, The Boy Who Kissed The Sky is inspired by the early life and influences of musical icon Jimi Hendrix. In the early era of rock n roll music, we see a young Black boy conjure his creativity as a budding guitarist. Guided by the spirit of music itself, the Boy learns to find harmony inside the challenging noises of his life. Although more mythology than biography, The Boy Who Kissed The Sky is a celebration of our muses and the forces that pull us to be who we are. Told with vibrant music and daring imagination, this new family musical inspires us to dream big when it matters most. Commissioned by Seattle Children's Theatre in partnership with Alliance Theatre, this highly theatrical play by Idris Goodwin celebrates all the young artists who follow their muse.
For tickets: click here.
Dorrance Dance Company
Rialto Center for the Arts - April 01, 2023 through April 01, 2023
Featuring dancers and musicians rooted in improvisation, Dorrance Dance Company is an award-winning tap ensemble founded by 2015 MacArthur Fellow/Artistic Director Michelle Dorrance. The company shares the incredibly dynamic range that tap dance has to offer through performance and education. Their goal is to engage with audiences on a musical and emotional level and to share the complex history and powerful legacy of this American art form throughout the U.S. and the world. Dorrance Dance explores what is most thrilling, brilliant, and beautiful about tap dancing-that it is, at once, movement and music.
For tickets: click here.
Pericles, Prince of Tyre
The Shakespeare Tavern Playhouse - March 09, 2023 through April 01, 2023
A Shakespearean Soap Opera! 70 Characters Played by 12 Actors! A dark and troubling riddle starts the heroic adventure of one man's lifetime, a story of love gained, lost, and gained again. Shakespeare woos us with his most epic theatrical journey. Join us as we follow the noble Pericles over continents and decades, goddesses and pirates, jousts and tempests. Featuring award-winning storyteller Andy Offutt Irwin as John Gower, the Narrator.
For tickets: click here.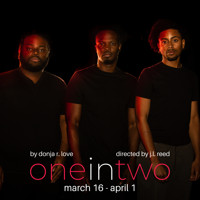 one in two
Out Front Theatre Company - March 16, 2023 through April 01, 2023
Three Black queer men sit in an ethereal waiting room. One is about to be chosen to live the unforgiving story of a man diagnosed with HIV, struggling to be defined by more than his status. Ten years after his own diagnosis, Donja R. Love has written a fearless account of the reality for too many Americans. A deeply personal call to action, one in two shines a light on the people behind a statistic and the strength of the community they make up.
For tickets: click here.

A Soldier's Play
Fox Theatre - March 28, 2023 through April 02, 2023
A Soldier's Play, the 1982 Pulitzer Prize-winning thriller by Charles Fuller, has rocketed back into the spotlight, thanks to this 2020 Tony Award®-winning Best Revival from Roundabout Theatre Company. "This is a play that deserves to be staged regularly all over America-though it's hard to imagine that it will ever be done better than this. It keeps you guessing all the way to the final curtain" (The Wall Street Journal). In 1944, on a Louisiana Army base, two shots ring out. A Black sergeant is murdered. And a series of interrogations triggers a gripping barrage of questions about sacrifice, service, and identity in America. Broadway's Norm Lewis leads a powerhouse cast in the show Variety calls "a knock-your-socks-off-drama," directed by Tony winner Kenny Leon.
For tickets: click here.
Tiny Beautiful Things
Theatrical Outfit - March 29, 2023 through April 23, 2023
Based on the New York Times bestselling book by Cheryl Strayed (author of Wild) and adapted by Academy Award nominee Nia Vardalos (My Big Fat Greek Wedding), Tiny Beautiful Things explores Strayed's time as the anonymous, unpaid, advice columnist Dear Sugar. While strangers on the internet tell her their most personal secrets (which they are terrified to even share with their own families), Strayed weaves together her own personal experiences to create a column full of light, laughter, and humanity. Tiny Beautiful Things is "A Theatrical Hug In Turbulent Times" (Variety).
For tickets: click here.

Moulin Rouge! The Musical
Fox Theatre - April 19, 2023 through April 30, 2023
Pop the champagne, Moulin Rouge! The Musical is the winner of 10 Tony Awards including Best Musical!Enter a world of splendor and romance, of eye-popping excess, of glitz, grandeur, and glory! A world where Bohemians and aristocrats rub elbows and revel in electrifying enchantment. Welcome to Moulin Rouge! The Musical! Baz Luhrmanns revolutionary film comes to life onstage, remixed in a new musical mash-up extravaganza. Directed by Tony Award winner Alex Timbers, Moulin Rouge! The Musical is a theatrical celebration of Truth, Beauty, Freedom, and above all Love. With a book by Tony Award winner John Logan; music supervision, orchestrations, and arrangements by Tony Award winner Justin Levine; and choreography by Tony Award winner Sonya Tayeh, Moulin Rouge! is more than a musical it is a state of mind.
For tickets: click here.
---
Looking to include your shows? Submit them to our listings here.