Chicago is never lacking outstanding theatre, whether epic Broadway shows, engrossing dramas or bold fringe offerings. BroadwayWorld is rounding up our top recommended theatre every month. April 2023's top picks include School of Rock, Once, The Bodyguard, You're A Good Man Charlie Brown and more!
School of Rock
Paramount Theatre -April 12, 2023 through June 4, 2023
From the genius mind of Andrew Lloyd Webber comes a rousing, feel good and inspirational story of kids at a prestigious prep school. Wannabe rocker, Dewey Finn, has just been kicked out of his band, he can't pay rent and his life is falling apart. When he scams his way into a teaching job meant for his roommate, Dewey turns a class of straight-A pupils into a guitar-shredding, bass-slapping, mind-blowing rock band. Dewey's love of music and rock soon inspires the kids to pursue what they love. Based on the hit movie starring Jack Black, School of Rock inspires, entertains and flat-out rocks.
For tickets: click here.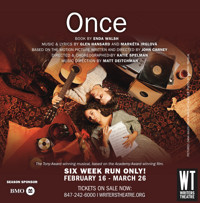 Once
Writers Theatre - February 16, 2023 through April 16, 2023
This 2012 Tony Award-winner for Best Musical is based on the 2007 Irish musical film and features gorgeous songs like the Oscar-winning "Falling Slowly." Performed by an accomplished cast of actors playing their own instruments on the intimate Nichols Theatre stage, this will be a Once like you've never seen it before, playing from February 16 to March 26, 2023.
For tickets: click here.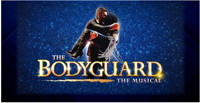 The Bodyguard
Fine Arts Building | Studebaker Theater - April 22, 2023 through April 23, 2023
Whitney Houston's music ignites this breathtaking Broadway romantic thriller based on the 1992 Warner Brothers movie. A former Secret Service agent Frank Farmer takes on the job of bodyguard to international superstar Rachel Marron who is being terrorized by a deadly stalker. Each of them expects to be in charge. What they don't expect is to fall in love. This show features a cascade of irresistible Whitney Houston classics including "Queen of the Night" "So Emotional" "One Moment in Time" "Saving All My Love" "Run to You" "I Have Nothing" "I Wanna Dance with Somebody" and one of the biggest-selling songs of all time: "I Will Always Love You."
For tickets: click here.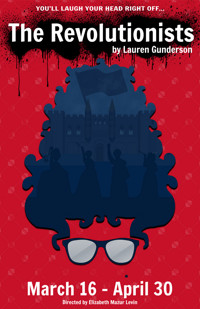 The Revolutionists
Oil Lamp Theater - March 16, 2023 through April 30, 2023
Imagine four badass, very real women, who lived boldly in France during the French Revolution's Reign of Terror had met and exchanged ideas before losing their heads? What if former queen Marie Antoinette, playwright Olympe De Gouges, assassin Charlotte Corday, and Haitian rebel Marianne Angelle, uncensored and full of ideas, grappled together with how to change the world? Oh...and it's a comedy!
For tickets: click here.
You're a Good Man, Charlie Brown
The Marriott Theatre - February 17, 2023 through April 01, 2023
Based on the beloved Charles Schulz comic strip, Charlie Brown and the entire Peanuts bunch explore life's great questions as they play baseball, struggle with homework, sing songs, swoon over their crushes, and celebrate the joy of friendship. You're A Good Man, Charlie Brown is loaded with charm, wit, and heart. Includes new songs from the Tony Award-winning Broadway revival!
For tickets: click here.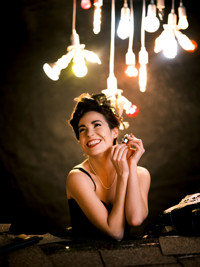 Happy Days
City Lit Theater - March 17, 2023 through April 02, 2023
A limited engagement of Samuel Beckett's absurdist masterpiece "Happy Days" will be presented by KB Productions March 17-April 2 at City Lit Theater. Directed and designed by Jon Dambacher, the production features a scenic installation made of exclusively recycled materials and stars Kayla Boye in one of modern drama's most challenging female roles.
For tickets: click here.
James M. Nederlander Theatre - March 14, 2023 through April 02, 2023
An uplifting comeback story like no other, TINA The Tina Turner Musical is the inspiring journey of a woman who broke barriers and became the Queen of Rock n Roll.One of the worlds best-selling artists of all time, Tina Turner has won 12 Grammy Awards and her live shows have been seen by millions, with more concert tickets sold than any other solo performer in music history.Featuring her much loved songs, TINA The Tina Turner Musical is written by Pulitzer Prize-winning playwright Katori Hall and directed by the internationally acclaimed Phyllida Lloyd.
For tickets: click here.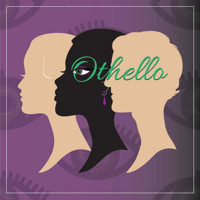 Othello
Center for Performing Arts Governors State University - April 06, 2023 through April 08, 2023
Get ready to see Othello as youve never seen HER beforethats right, HER! This contemporary adaptation finds Shakespeares characters transported to modern day while retaining the eloquence and vitality of the bards original text.Othello is a successful Black woman who has everything: power, respect, and the love of her fair Desdemona not to mention the contempt of the cunning, back stabbing, ladder-climbing, lago. Threatened by, and resentful of the power couples happiness, lago preys on Othellos insecuritiesusing insidious race, class, gender and sexual warfare to poison Othellos mind and convince her that Desdemonas devotion is fleeting and false.This powerful tale of prejudice, inequity, discrimination, and jealousy is full of wit and action, and a few surprises as well. So, come see the show youve known for all these years in a whole new light
For tickets: click here.
A SOLDIER'S PLAY
CIBC Theatre - April 04, 2023 through April 16, 2023
A Soldier's Play, the 1982 Pulitzer Prize-winning thriller by Charles Fuller, has rocketed back into the spotlight, thanks to this 2020 Tony Award®-winning Best Revival from Roundabout Theatre Company. "This is a play that deserves to be staged regularly all over America-though it's hard to imagine that it will ever be done better than this. It keeps you guessing all the way to the final curtain" (The Wall Street Journal). In 1944, on a Louisiana Army base, two shots ring out. A Black sergeant is murdered. And a series of interrogations triggers a gripping barrage of questions about sacrifice, service, and identity in America. Broadway's Norm Lewis leads a powerhouse cast in the show Variety calls "a knock-your-socks-off-drama," directed by Tony winner Kenny Leon.
For tickets: click here.
The Book of Mormon
Cadillac Palace Theatre - March 28, 2023 through April 16, 2023
The New York Times calls it the best musical of this century. The Washington Post says, It is the kind of evening that restores your faith in musicals. And Entertainment Weekly says, Grade A: the funniest musical of all time. Jimmy Fallon of The Tonight Show calls it Genius. Brilliant. Phenomenal. Its THE BOOK OF MORMON, the nine-time Tony Award winning Best Musical.This outrageous musical comedy follows the adventures of a mismatched pair of missionaries, sent halfway across the world to spread the Good Word. With standing room only productions in London, on Broadway, and across North America, THE BOOK OF MORMON has truly become an international sensation. Contains explicit language.All patrons, regardless of age, must have a ticket.
For tickets: click here.
JAGGED LITTLE PILL
James M. Nederlander Theatre - April 11, 2023 through April 23, 2023
SOME SHOWS YOU SEE. THIS SHOW YOU FEEL. Joy, love, heartache, strength, wisdom, catharsis, LIFE-everything we've been waiting to see in a Broadway show- is here in the exhilarating, fearless new musical based on Alanis Morissette's world-changing music. Directed by Tony Award winner Diane Paulus (Waitress, Pippin, upcoming 1776) with a Tony-winning book by Diablo Cody (Juno) and Grammy-winning score, this electrifying production about a perfectly imperfect American family "vaults the audience to its collective feet" (The Guardian). "Redemptive, rousing and real, JAGGED LITTLE PILL stands alongside the original musicals that have sustained the best hopes of Broadway." (The New York Times) You live, you learn, you remember what it's like to feel truly human... at JAGGED LITTLE PILL.
For tickets: click here.
Describe the Night
Steppenwolf Theatre Company - March 02, 2023 through April 09, 2023
Truth is lie; lie is truth. 1920: Jewish writer Isaac Babel begins a journal while serving in war. Ninety years later, this same journal is found in the wreckage of a suspicious plane crash. What did Babel write, and why does it matter? Ensemble member Rajiv Joseph's epic thriller ricochets through place and time following the unlikely lives of seven individuals - soldiers and poets, KGB agents and babushkas - as they unearth mysteries buried by decades of history, fiction and blood.
For tickets: click here.
---
Looking to include your shows? Submit them to our listings here.