Seattle is never lacking outstanding theatre, whether epic Broadway shows, engrossing dramas or bold fringe offerings. BroadwayWorld is rounding up our top recommended theatre every month. This month's picks include Into the Woods, Thoreau at Home and more!
Into The Woods
The Fifth Avenue Theatre - February 10, 2023 through March 05, 2023
"Happily Ever After" has never been so complicated. That's what Little Red, a Witch, Cinderella, the Baker, and his wife discover as they invade one another's stories and find themselves tangled in a web of unexpected consequences. They quickly find this web is too big to untangle on their own and that they must work together to set everything right in the kingdom. Into the Woods reminds us that only together can we defeat the wolves and giants of the world. With a stunning, unforgettable score featuring "No One is Alone," "Children Will Listen," and "Giants in the Sky," this iconic show will enchant, entrance, and delight! A Tony Award-winning Broadway hit and feature film sensation, Into the Woods continues to enthrall theater lovers more than three decades after its creation.
For tickets: click here.
Ken Ludwig's Baskerville: A Sherlock Holmes Mystery
Harlequin Productions - January 27, 2023 through February 11, 2023
Get your deerstalker cap on - the play's afoot! Ken Ludwig's Baskerville: A Sherlock Holmes Mystery transforms Arthur Conan Doyle's classic "The Hound of the Baskervilles" into a murderously funny adventure. The male heirs of the Baskerville line are being dispatched one by one, and Sherlock Holmes is on the case. To find their ingenious killer, Holmes and Watson must brave the desolate moors before a family curse dooms its newest heir. Watch as our intrepid investigators try to escape a dizzying web of clues, silly accents, disguises, and deceit as five actors deftly portray more than forty characters. Does a wild hellhound prowl the moors of Devonshire? Can our heroes discover the truth in time? Join the fun and see how far from elementary the truth can be.
For tickets: click here.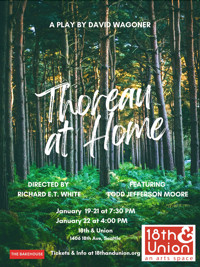 Thoreau at Home
18th & Union - Now through January 22, 2023
18th & Union: An Arts Space and The Bakehouse (Todd Jefferson Moore / Richard E.T. White) present a premiere co-production of Thoreau at Home, a play for one actor, running January 19-22. Written by poet and novelist David Wagoner, it takes us on an immersive, lyrical journey with the influential American naturalist Henry David Thoreau through the environment he grew to think of and care for as his home.
For tickets: click here.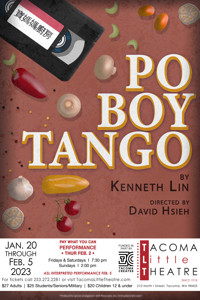 PO BOY TANGO
Tacoma Little Theatre - January 20, 2023 through February 05, 2023
A celebration of the human spirit and the joy of cooking.Po Boy Tango tells the story of Richie Po, a Taiwanese immigrant who turns to his estranged friend Gloria, an African-American Soul Food Chef, to help him recreate his mothers Great Banquet. Despite the challenges of shark fin soup, duck po boy sandwiches, and underlying cultural tensions, they find common ground through their shared humor and the blending of traditional Chinese cuisine and African-American soul food. Helped by lessons from Po Mamas television cooking show, the two discover a deeper understanding of food, culture, and the nature of friendship.Pay What You Can: Thursday, February 2nd at 7:30pmASL Interpreted Performance: Sunday, February 5, 2023 at 2:00pm
For tickets: click here.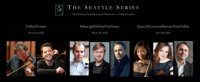 The Seattle Series
Women's University Club - January 06, 2023 through April 28, 2023
After a spectacular first season, The Seattle Series, a chamber-festival-meets-recital series featuring ad hoc combinations of awe-inspiring artists, returns in 2023. Outstanding Seattle-based musicians and their hand-picked colleagues from around the nation and globe will once again join together for unique collaborations unavailable elsewhere. Inspired by the hidden gem of world-class classical musicians right on Seattle's doorstep, the series welcomes back three beloved members of the Seattle Symphony; Concertmaster Noah Geller, Principal Cello Efe Baltacigil, and Assoc. Principal Cello Meeka Quan DiLorenzo. Guests will include violinists Rachel Barton Pine and Zachary Depue, pianists Henry Kramer and Benjamin Hochman, and harpsichordist Jonathan Oddie. Performances will once again be held in the intimate Grand Ballroom of the Women's University Club, Seattle, with use of the club's main level for libations and socializing. The Seattle Series fosters an intimate, accessible atmosphere appreciated by music fans, new and old.
For tickets: click here.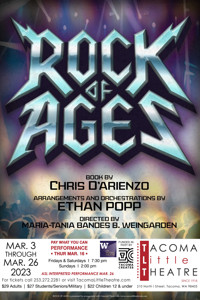 ROCK OF AGES
Tacoma Little Theatre - March 03, 2023 through March 26, 2023
University of Washington-Tacoma and TLT join forces!Aqua Net, Lycra, lace, and liquor flow freely at one of the Sunset Strips last legendary venues in the 1980s. A place where sex machine Stacee Jaxx takes the stage and scantily clad groupies line up to turn their fantasies into reality. Amidst the madness, aspiring rock star (and resident toilet cleaner) Drew longs to take the stage as the next big thing (and longs for Sherri, fresh off the bus from Kansas with stars in her eyes). But the fairy-tale is about to end when German developers sweep into town with plans to turn the fabled Strip into just another capitalist strip mall. Can Drew, Sherri, and the gang save the strip, and themselves, before its too late? Only the music of hit bands Styx, Journey, Bon Jovi, Whitesnake, and more hold the answer.Pay What You Can: Thursday, March 16th at 7:30pmASL Interpreted Performance: Sunday, March 26, 2023 at 2:00pm
For tickets: click here.
---
Looking to include your shows? Submit them to our listings here.