Washington, DC is never lacking outstanding theatre, whether epic Broadway shows, engrossing dramas or bold fringe offerings. BroadwayWorld is rounding up our top recommended theatre every month. Our top picks for May 2023 include Here There Are Blueberries and more!
Here There Are Blueberries
Shakespeare Theatre Company - May 07, 2023 through May 28, 2023
A mysterious album of never before seen Nazi-era photographs arrives at the desk of United States Holocaust Memorial Museum archivist Rebecca Erbelding. As Rebecca and her team of historians begin to unravel the shocking story behind the images, the album soon makes headlines around the world. In Germany, a businessman sees the album online, recognizes his own grandfather in the photos, and begins a journey of discovery that will lead him to a reckoning of his family's past and his country's history. Here There Are Blueberries tells the story of these photographs - what they reveal about the perpetrators of the Holocaust, and about our own humanity. Tectonic Theater Project's HERE THERE ARE BLUEBERRIES By Moisés Kaufman and Amanda Gronich Conceived & Directed by Moisés Kaufman Devised with Scott Barrow, Amy Marie Seidel, Frances Uku, Grant James Varjas, and the Members of Tectonic Theater Project. Here There Are Blueberries is the winner of the 2022 Theater J Trish Vradenburg Jewish Play Prize.
For tickets: click here.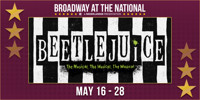 Beetlejuice
The National Theatre - May 16, 2023 through May 28, 2023
It's showtime! Based on Tim Burton's dearly beloved film, this hilarious musical tells the story of Lydia Deetz, a strange and unusual teenager whose whole life changes when she meets a recently deceased couple and a demon with a thing for stripes. With an irreverent book, an astonishing set, and a score that's out of this Netherworld, BEETLEJUICE is "SCREAMINGLY GOOD FUN!" (Variety). And under its uproarious surface (six feet under, to be exact), it's a remarkably touching show about family, love, and making the most of every Day-O!
For tickets: click here.
SHOUT SISTER SHOUT!
Ford's Theatre - March 15, 2023 through May 13, 2023
Inspired by Gayle F. Wald's book Shout, Sister, Shout!, this new musical tells the story of Sister Rosetta Tharpe-one of America's most influential rock, R&B and gospel crossover singers and guitarists. Ambitious, courageous and uncompromisingly public, Tharpe became a pioneer of the women's movement for racial and sexual equality and musical legend who redefined the national and international music scene in the 1930s and 40s and beyond. Dive into Cheryl L. West's spirited, authentic and emotionally charged story about a charismatic music forerunner and the authentic roots of rock-and-roll.
For tickets: click here.
UrbanArias presents Inbox Zero
The Keegan Theater - May 04, 2023 through May 04, 2023
UrbanArias has teamed up once again with the acclaimed composer and librettist team Peter Hilliard and Matt Boresi to premiere Inbox Zero, a new work from Hilliard and Boresi. Inbox Zero is the story of Jackie, a man whose desire for monetary gain supersedes his understanding of human nature. As he struggles to provide for his wife and child, an internet scam captures his imagination and attention, and he is soon embroiled in an imagined international intrigue that convinces him to drain the family bank account in hopes of a million dollar get-rich quick scheme. The monodrama features baritone Keith Phares, with members of the Inscape Orchestra conducted by UrbanArias Artistic Director Robert Wood. Dennis Whitehead Darling directs. This presentation is a staged workshop reading, focusing on the words and music rather than a full production. A talkback with the creators will follow the performance.
For tickets: click here.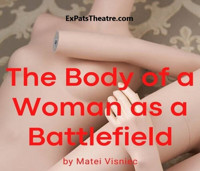 The Body of a Woman as a Battlefield
ExPats Theatre - April 28, 2023 through May 21, 2023
In the aftermath of the Bosnian War, two women meet at a NATO medical facility in Germany: Kate, an American psychologist participating in a commission investigating mass graves and Dorra, a gang rape survivor- heavily traumatized and pregnant. Kate's Harvard-trained psychology skills fails in her attempts to reach Dorra, who initially refuses to speak. After an evening of intoxication and liberating humor, casting out the demons of ethnic hatred, the two women form a bond and a transformation can begin. French-Romanian playwright Matéi Visniec explores the dark themes of interethnic conflict and sexual violence as a weapon of war with a provocative voice and bold political humor. Featuring Danielle Scott as Dorra and Anika Harden as Kate.
For tickets: click here.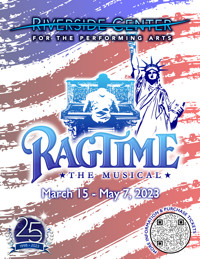 Ragtime the Musical
Riverside Center for the Performing Arts - March 15, 2023 through May 07, 2023
Riverside Center for the Performing Arts, located right in Washington DC's backyard, is excited to present Ragtime the Musical. Opening Wednesday, March 15th and running until Sunday, May 7th, this powerful story and explosive score will keep audiences on the edge of their seats. The music of the show was written by Stephen Flaherty, with lyrics by Lynn Ahrens, and the book written by the award-winning Terrance McNally. Ragtime opened on Broadway in 1998 and received the Tony awards for Best Book of a Musical and Best Score of a Musical. It was then revived on Broadway in 2009. Noteworthy songs include "Wheels of a Dream," "Make Them Hear You," and "Back to Before."
For tickets: click here.
The Sleeping Beauty
The Kennedy Center - May 04, 2023 through May 07, 2023
TWB presents this beloved, time-traveling fairy tale. In an illustrious kingdom from long ago, iconic fairytale characters, opulent and imaginative sets and costumes, and classical ballet will light up The Kennedy Center.
For tickets: click here.
LA VALENTÍA (Valor)
GALA Hispanic Theatre - Now through May 14, 2023
An expertly constructed tale brimming with family feuds and supernatural secrets. This rollicking comedy finds sisters Trini and Guarda battling over whether to sell their beloved family summer home that sits next to a bustling highway. With each increasingly absurd tactic they use to get their way, the sisters encounter mysterious visitors who provide hilarious twists and turns.
Sanzol construye con experticia una astuta y humorística historia llena de disputas familiares y secretos sobrenaturales. Esta disparatada comedia presenta la batalla de las hermanas Trini y Guarda sobre la venta de la casa familiar de veraneo, ubicada justo al lado de una ruidosa autopista. Cada una utiliza absurdas tácticas para lograr su cometido, pero pronto visitantes misteriosos llegan para crear situaciones hilarantes... pero ¿quiénes son ellos en realidad?
For tickets: click here.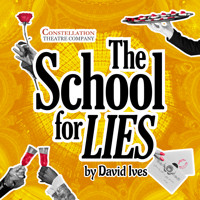 The School for Lies
Constellation Theatre Company - April 27, 2023 through May 28, 2023
In the heart of Paris, the beautiful, young widow Célimène hosts a posh salon and entertains her guests with satiric impressions of society's dilettantes. Her many suitors specialize in flamboyant fashion, obsequious flattery, and atrocious poetry. When Frank, a British traveler, arrives dressed in boring black and ready to call out hypocrisy with sharp humor and acidic cynicism, Célimène meets her match. This riotous farce is a high tempo roller-coaster glittering with witty wordplay and giddy love affairs that will set your heart aflutter.
For tickets: click here.
LA VALENTIA Valor: A Spooky Spectacular
GALA Hispanic Theatre - Now through May 14, 2023
Two sisters, Trini and Guada, are engaged in a heated feud over the sale of their summer home next to a busy highway. As tensions rise in this comedic romp, peculiar visitors to the house appear. With each new, absurd scheme that Trini and Guada employ to convince the other sister of their position, mysterious elements grow more pronounced. Who are these visitors who seem to inhabit the house? La valentía (Valor) features a masterfully crafted narrative that expertly weaves together themes of family strife and otherworldly mystery. This clever and amusing production is sure to keep audiences guessing and laughing until the very end. The Noche de GALA and Press Night is Saturday, April 22, 2023, at 8 pm. Student matinees of La valentía are on weekdays at 10:30 am on April 27 and 28 and May 4, 5, 11 and 12. La valentía is appropriate for ages 10 and up. The show has a runtime of approximately 100 minutes.
For tickets: click here.
---
Looking to include your shows? Submit them to our listings here.