Philadelphia is never lacking outstanding theatre, whether epic Broadway shows, engrossing dramas or bold fringe offerings. BroadwayWorld is rounding up our top recommended theatre every month. This month's picks include 1776, A Year With Frog And Toad, A Soldier's Play and more!
1776
Forrest Theatre - February 14, 2023 through February 26, 2023
They knew they would make history, but not what history would make of them. Fed up with living under the tyranny of British rule, John Adams attempts to persuade his fellow members of the Continental Congress to vote in favor of American Independence and sign the Declaration. But how much is he willing to compromise in the pursuit of freedom? And to whom does that freedom belong?From American Repertory Theater at Harvard University and Roundabout Theatre Company, Jeffrey L. Page and Tony Award winner Diane Paulus reexamine this pivotal moment in American history in a new production of this Tony Award-winning musical.
For tickets: click here.
The Dinner Detective Comedy Murder Mystery Dinner Show
The Dinner Detective Philadelphia - January 21, 2023 through January 21, 2023
America's LARGEST interactive comedy murder mystery dinner show is now playing in Philadelphia, PA! At The Dinner Detective Murder Mystery Dinner Show, you'll tackle a challenging crime while you feast on a fantastic dinner. Just beware! The criminal is lurking somewhere in the room, and you may find yourself as a Prime Suspect before you know it!
For tickets: click here.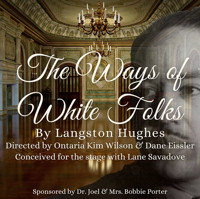 The Ways of White Folks
Egopo Classic Theater - January 11, 2023 through January 22, 2023
This world premiere theatrical staging of Langston Hughes' 1934 American classic presents powerful portraits of race relations in America. Told with unparalleled candor, each short story offers a private view into the absurd and tragic interactions between White and Black people across systemic divides. In EgoPo's immersive promenade staging, you are invited to attend a New Age retreat at the historic Glen Foerd Estate on the Delaware River. There you will be welcomed into each character's room on a tour of the extravagant mansion to witness their intimate and private lives.
The Ways of White Folks by Langston Hughes takes place at The Mansion at Glen Foerd, 5001 Grant Ave, Philadelphia, PA 19114.
For tickets: click here.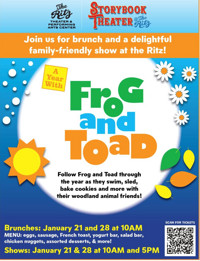 A Year with Frog and Toad
The Ritz Theater and Performing Arts Center - January 21, 2023 through January 28, 2023
Follow Frog and Toad through the year as they swim, sled, bake cookies and more with their woodland animal friends!
For tickets: click here.
Charlotte's Web
Arden Theatre Company - December 07, 2022 through January 29, 2023
Arden Children's Theatre is back! Join us for the heart-warming story of a special friendship between a lovable pig and everyone's favorite spider. Wilbur, Charlotte and their barnyard friends have never been more delightful than in this wonderful tribute to one of the greatest stories for children ever written.
For tickets: click here.
A Soldier's Play
Forrest Theatre - January 24, 2023 through February 05, 2023
A Soldier's Play, the 1982 Pulitzer Prize-winning thriller by Charles Fuller, has rocketed back into the spotlight, thanks to this 2020 Tony Award®-winning Best Revival from Roundabout Theatre Company. "This is a play that deserves to be staged regularly all over America-though it's hard to imagine that it will ever be done better than this. It keeps you guessing all the way to the final curtain" (The Wall Street Journal). In 1944, on a Louisiana Army base, two shots ring out. A Black sergeant is murdered. And a series of interrogations triggers a gripping barrage of questions about sacrifice, service, and identity in America. Broadway's Norm Lewis leads a powerhouse cast in the show Variety calls "a knock-your-socks-off-drama," directed by Tony winner Kenny Leon.
For tickets: click here.
Come From Away
Academy of Music - February 07, 2023 through February 12, 2023
This New York Times Critics Pick takes you into the heart of the remarkable true story of 7,000 stranded passengers and the small town in Newfoundland that welcomed them. Cultures clashed and nerves ran high, but uneasiness turned into trust, music soared into the night, and gratitude grew into enduring friendships.Dont miss this breathtaking musical written by Tony nominees Irene Sankoff and David Hein, and helmed by Tony-winning Best Director, Christopher Ashley. Newsweek cheers, It takes you to a place you never want to leave!On 9/11, the world stopped.On 9/12, their stories moved us all.
For tickets: click here.
ActorsNET of Bucks County - January 27, 2023 through February 12, 2023
Agnes and Tobias, a wealthy couple in middle age, have achieved a "delicate balance" in their household, which is disrupted when close friends arrive on their doorstep with luggage because an undefinable but overwhelming fear has caused them to flee their home. These uninvited guests disrupt the balance, leading to compelling drama and challenging revelations. Fridays and Saturdays 8pm, Sundays 2pm
For tickets: click here.
Lost In Yonkers
DCP Theatre - February 10, 2023 through February 19, 2023
Lost in Yonkers is a coming-of-age story set in Yonkers, New York. Simon's Tony and Pulitzer Prize-winning play centers around two brothers, Arty and Jay, who live with their grandmother and their mentally challenged Aunt Bella, while their father travels, desperately trying to scrape enough money together while working as a salesman to pay off his debts to a loan shark, and their mother has died of cancer. Over the course of the play, the young boys learn lessons about love, responsibility and the importance of family that will carry them into adulthood.
For tickets: click here.
Indecent
Players Club of Swarthmore - January 06, 2023 through January 21, 2023
A Tony Award nominee for Best Play, Indecent follows the real-life events surrounding the Broadway debut of Sholem Asch's 'The God of Vengeance,' a play that was so controversial at the time that its producers and entire cast were arrested for obscenity but is now considered a Jewish cultural touchstone. Indecent chronicles the artists who risked their careers and lives to perform it, and the evolving identity of the culturally rich community that inspired its creation.
For tickets: click here.
---
Looking to include your shows? Submit them to our listings here.